Egg. A small thing but a great source of nutrients and is also known as one of the "superfoods" and are among the most nutritious foods on the planet. A whole egg contains all the essential amino acids, making the body well-equipped to make full use of the protein in them. As someone who eats egg for a healthier diet, it would be awesome to know how to make things more interesting – turning boiled eggs into a different level that are easy to prepare.
In this post, we will share 5 different recipes to make our superfood more interesting. So sit back, and let's see how it's done!
VALENTINE'S DAY SCRAMBLED EGGS
Valentine's day is just a heartbeat away. This recipe is quick and awesome. Have we ever said that it only takes 7 minutes? Here's the recipe by Chef Jean-Georges Vongerichten!
Ingredients:
2 large eggs
1 tablespoon butter
salt and pepper (to taste)
a few leaves flat-leaf parsley (chopped)
1 small tomato
Instructions:
Break the eggs in a bowl and whisk only a couple of times. Put the butter on high heat.
Add the whisked eggs and pour them in the sizzling butter, then stir them until cooked.
Transfer it on a plate, sprinkle with salt and pepper. Add parsley or cheese if desired.
Take a knife and cut the tomatoes into a heart-shaped one. Cutaway the imperfections.
Enjoy!
CRUSTLESS QUICHE WITH EDAMAME AND SUN DRIED TOMATOES
Ever tried a Japanese-style recipe out of eggs and cheese? Then try this yummy, crustless quiche that will suit your taste buds, which is cheesy, savory, moist and almost soufflé like by Caroline Phelps!
Ingredients:
3/4 cup milk
3/4 cup half and half
60 grams shredded cheddar (mozzarella or other pizza cheese)
2/3 teaspoon salt
pinch black pepper
pinch salt
1 1/3 tablespoon olive oil
4 large eggs
150 grams shelled edamame beans (drained)
6 sun-dried tomatoes (sliced bite size)
1 cup shiitake mushrooms (slice bite size)
Instructions:
Preheat oven to 350 ºF/176 ºC.
Add the milk in a large mixing bowl, half and half, shredded cheese, salt, and pepper.
Break the eggs in a bowl, add the milk and cheese mixture. Whisk.
In a pan over medium heat, pour some olive oil, sun-dried tomatoes, edamame beans, and shiitake mushrooms. Cook for a few minutes. Add some salt and pepper, then pour the mixture in ramekins.
Put ramekins on a cookie tray and add an inch of water to the cookie tray.
Bake in the oven for 20-30 minutes until the quiche is cooked. This can be sold hot or cold.
Enjoy!
ONSEN TAMAGO SALAD WITH SILKEN TOFU
OnsenTamago are eggs that are known to be slowly cooked in hot spring water. "Onsen" is the Japanese word for "hot spring" and hot springs are most popular in one of their islands named Hokkaido. OnsenTamago is popular in Japan and is served with a bowl of rice, beef, pork, or chicken. Depends on the person's preferences, sometimes it can be served together with ramen bowl, roasted asparagus, and so on. Now, let's see how this meal is done!
Ingredients:
1 box silken tofu
4 large eggs
1 tablespoon potato or corn starch
1 tablespoon water
2 teaspoon bonito flakes
2 1/2 tablespoons mirin
1/4 cup soy sauce
1 tablespoon sake
2 scallions (finely chopped)
1 1/2 tablespoons ginger (peeled and grated)
1 cup arugula
Instructions:
Drain and wrap the tofu in a paper towel to remove excess water. Cut into quarters. Set aside.
Add 4 cups of water in a small/medium-sized pot and boil. Once it boils, turn off the fire and place the pot to a cool surface.
Mix the potato starch with 1 tablespoon of water, then add it to the pot and stir well.
Gently put the eggs in the pot, cover and set the timer for 8 minutes.
In four separate bowls, put aruguila at the bottom and top with silken tofu.
To create the tsuyu, combine soy, mirin, bonito flakes and sake. Microwave for a minute. Set aside.
Carefully transfer the cooked eggs in a bowl of cold water. Let it cool for a minute.
Gently break each egg in a small bowl then lay on top of each piece of tofu. This also prevents the eggs from sliding down to the bottom when breaking them.
Add scallions and ginger. Finish it by pouring a little tsuyu on top. Serve.
JAPANESE SOY FLAVORED EGGS
Looking for some low-calorie snack that is quick and easy to prepare? Then Japanese soy flavored eggs are a must-try!
Ingredients:
6 hard-boiled eggs (peeled)
4 1/2 tablespoons soy sauce
2 tablespoons rice vinegar
1 tablespoon tbsp sake
2 teaspoons granulated sugar
Instructions:
Mix the sake, sugar, soy sauce, and rice in a bowl. Stir until the sugar melts.
Put the eggs in a ziplock bag. Pour the marinade and close the bag, leaving some air in it.
Refrigerate for 2-3 hours and move the eggs around every 30-40 minutes to coat/pickle evenly.
Serve with mayo, hot mustard, pickles, tarako, or with a salad.
Enjoy!
5. CHAWANMUSHI (JAPANESE EGG CUSTARD)
Chawanmushi is an egg custard filled with various ingredients like shiitake mushrooms, ginko, fish cakes (kamaboko) and (if preferred) shrimps. It's steamed in a cup, drizzled with a savory sauce made of dashi, mirin and soy sauce.This is served as an appetizer.
Ingredients: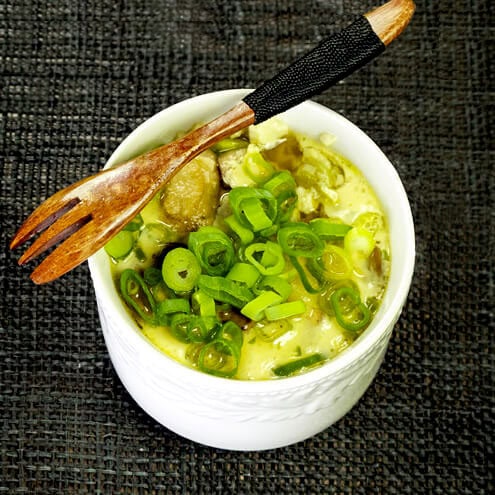 1 1/2 cup dashi broth, at room temperature
4 large eggs
1 tablespoon extra virgin olive oil
2 cups mushrooms (chopped)
2 stalks scallions (finely chopped)
For the sauce:
1/4 cup dashi broth, at room temperature
1 1/2 tablespoon light soy sauce
1 teaspoon sesame oil
1 tablespoon rice vinegar
Instructions:
Add water to your food steamer and set it to high.
Add oil and mushrooms to a pan over high heat, and cook for a few minutes until the mushrooms are slightly caramelized.
Turn the heat off and transfer the mushrooms to a plate. Let it cool to room temperature and set aside.
Whisk the eggs and add dashi broth. In four separate cups, equally divide the mushrooms and pour in the egg mixture.
Add a few scallions in each cup and stir. Put the cups in the steamer, cover, and steam for 12-14 minutes.
On the other hand, mix all the ingredients of the sauce. Set aside.
Insert a toothpick in the center of the custard. The Chawanmushi is ready when the skewer comes out clean.
Take the cups out of the steamer, pour a little sauce on top and garnish with scallions.
Hungry for more? Click here!