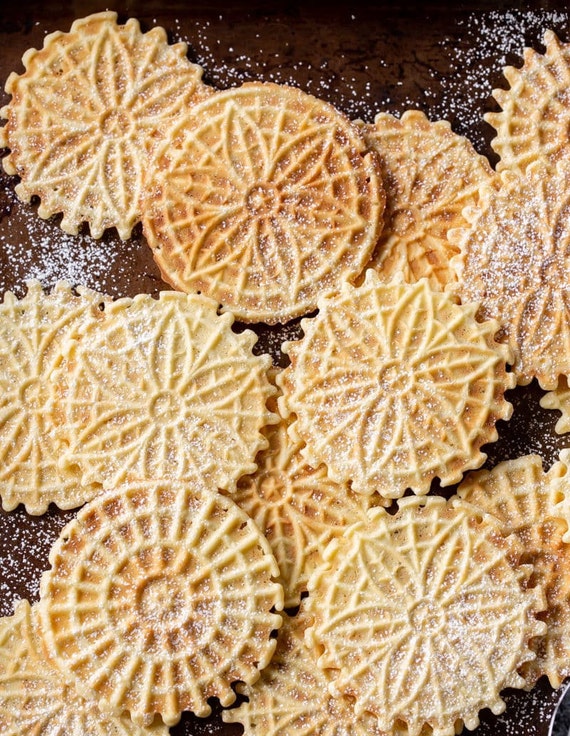 Pizzelle are known as one of the world's oldest cookies that originated in central Italy but has a cultural significance in the country. This kind of cookie has many variations made from a thin wafer that isn't baked but pressed by a hot-cast iron. These Pizzelle cookies are made of thin wafer cookies with an average level of sweetness with a buttery texture. This can be added with additional ingredients to make it more special like flavoring them with almond extracts, vanilla or anise seeds. Now here's the recipe for the old but new kind of cookie that we should look forward to trying!
INGREDIENTS:
8 tablespoons (1 stick) unsalted butter
3 large eggs
3/4 cup granulated sugar
1 tablespoon vanilla extract, 1 teaspoon vanilla bean paste, or the seeds of 1 split and scraped vanilla bean
1 1/2 cups all-purpose flour
1 1/2 teaspoons baking powder
1/2 teaspoon kosher salt
Cooking spray
Powdered sugar, for serving (optional)
INSTRUCTIONS:
Cut 8 tablespoons of unsalted butter into pieces and place it in a microwave-safe bowl and microwave it until it melts. Let it cool.
In a large bowl, place 3 large eggs, ¾ cup granulated sugar, and vanilla. Whisk until the mixture is homogeneous.
Add 1 ½ cups of flour and 1 ½ teaspoon of baking powder, and ½ teaspoon of kosher salt. Whisk to combine. Add the cooled butter and whisk until smooth. Cover the bowl and let the batter rest for 30 minutes. You can also store the batter in the refrigerator overnight and bring it to room temperature for 30 minutes before using.
Preheat the pizzelle press 10 minutes before baking. Lightly coat the press with cooking spray and portion 2 teaspoons of the batter into the center of each pizelle form. Close the press and cook until lightly golden-brown.
Do the same for the remaining batter.
Cool the cookies. You can dust with powdered sugar if desired.
Enjoy!
Makes: 32 (3-inch) cookies

Hungry for more? Click here!