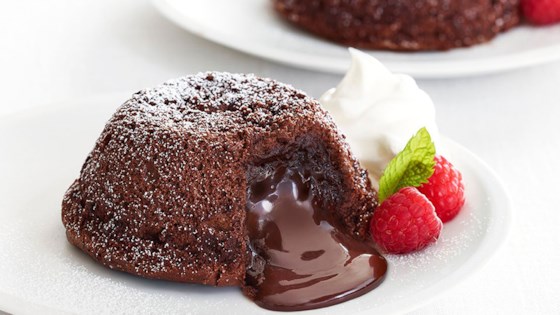 When we hear the word 'lava' we can imagine it flowing from a volcano – a smoky, red hot molten rock from the volcano's crater. But in this recipe, chocolate would be our lava – molten cakes instead of molten rocks that are undeniably delicious with every bite! With only five ingredients, these cakes are surprisingly easy and can be made even in the comfort of your own home.
INGREDIENTS:
8 tablespoons (1 stick) unsalted butter, plus more for coating the ramekins
1/3 cup all-purpose flour, plus more for dusting
4 ounces dark chocolate, preferably 60 to 75% cacao
1/3 cup granulated sugar
2 large eggs
2 large egg yolks
INSTRUCTIONS:
Arrange a rack in the lower third of the oven and heat the oven to 450°F. With your fingers, coat a small pat of butter all over the sides of 4-6 ounces of ramekins. Tap out the excess and lightly dust the insides with flour. Place on a rimmed baking sheet.
Cut 1 stick of unsalted butter and 4 ounces of dark chocolate into small pieces. Place it in a medium heatproof bowl or double boiler over a saucepan of simmering water. Heat, stir it occasionally until it melts. This will take 3-4 minutes. Remove from heat.
Place 1/3 cup of sugar, 2 large egg yolks, and 2 large eggs in the bowl of a stand mixer that's fitted the whisk attachment. Take a large bowl and use an electric hand mixer. Beat on medium speed until it thickens and becomes pale in color.
With the use of a rubber spatula, stir the egg mixture into the chocolate mixture. Combine. Add 1/3 cup of flour and fold it in with the spatula, being careful not to overmix.
Divide the batter evenly among the ramekins. Set the oven to 10-12 minutes. Bake until the cakes pull away from the sides of the ramekins.
Serve and enjoy!
Makes: 4
Preparation time: 10 minutes
Cooking time: 10 minutes

Hungry for more sweet deliciousness? Click here!