Samsung recently launched their latest wireless headphones, and we're about to weigh the pro's and con's between the Galaxy Buds+ and Apple's AirPod Pro. This review aims to help you find the best pair that will suit your lifestyle preferences.
Benefits of Wireless Headphones
Quality in-ear wireless headphones fit perfectly into the ears without the wires and the band that attaches it to your phone or any other gadget. It provides more freedom to move around and worry less about headphones falling off. Earbuds are meant to stay in place, plugged straight into the ears.
Wireless ear buds are perfect for those on-the-go with active lifestyles, those who need to take calls while driving, and anyone who prefers being able to get around without being restricted by the limits of a wire's length. Wireless headphones make it much easier to listen to music while running, doing yoga, or lifting at the gym.
The convenience of carrying around wireless headphones is priceless. The compact packaging case, which also usually serves as the headphones' charger, can easily be placed in your pocket. Say goodbye to looping around the wires to clasp, and hello to simply tucking it in its case.
Charging these wireless headphones is a breeze. To charge, just place the ear buds in the case and plug it to an electrical source. It will take a few hours to get full battery life. However, battery consumption is fast because of its size. Nonetheless, the case itself preserves battery power which enables you to recharge the buds even without an electrical power source.
Here you will find impartial reviews of the Samsung Galaxy Buds+ and the Apple AirPod Pro. We are comparing them on the bases of pricing, audio quality, design and aesthetics, battery life, wear-ability and comfort, and additional features.
Samsung Galaxy Buds+
Retail Price: $149.99
Battery Life of Earbuds: 11 Hours
Battery Life of Case: 11 Hours
Wireless Chargeable Case: Yes
Colours: White, Black, Cloud Blue
Earbud Weight: 6.1g each bud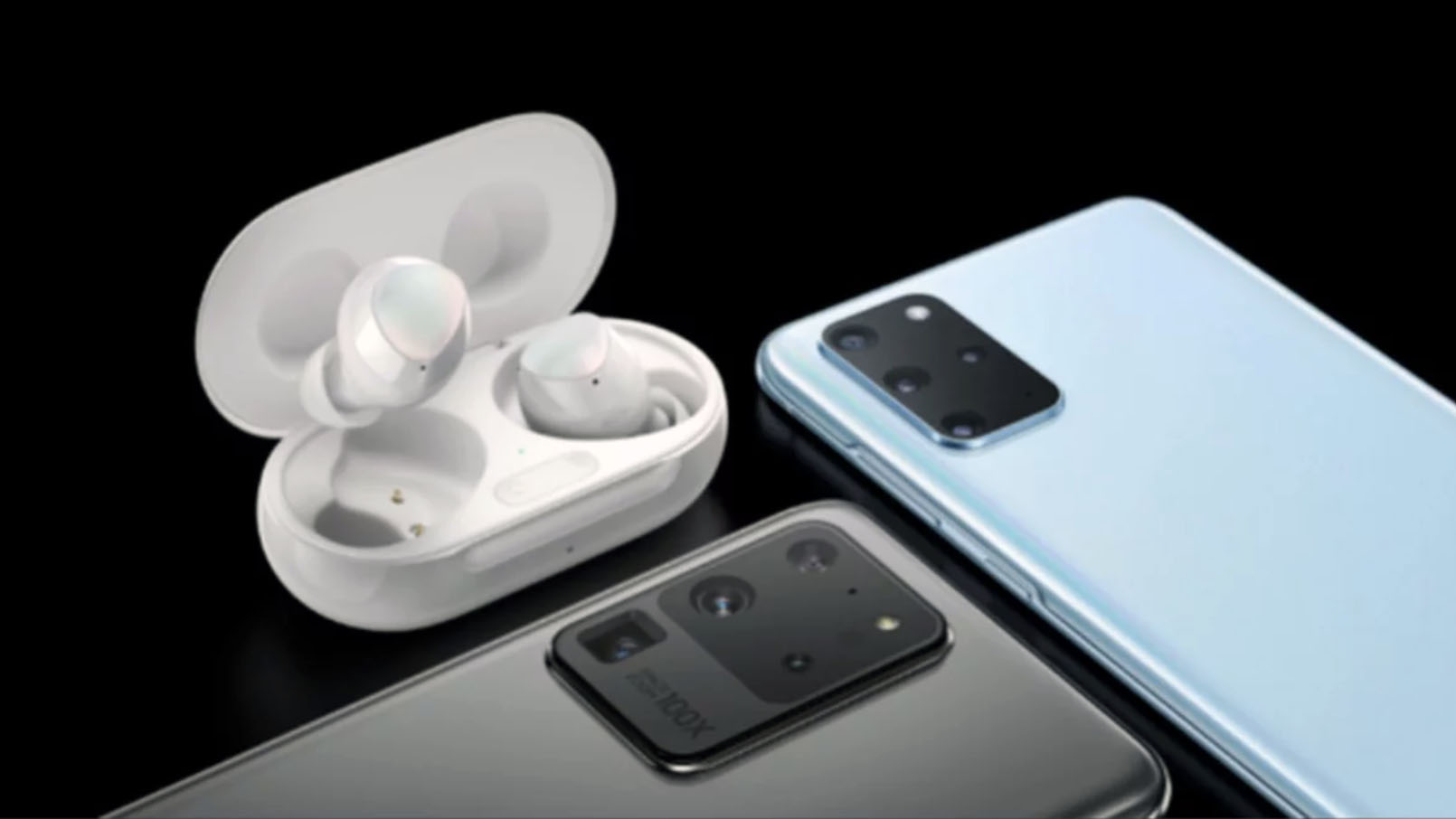 The new Samsung Galaxy Buds+ remarkably updated their technology from last year's model. Although aesthetically, the design did not noticeably change, the experience has drastically improved with its AKG-tuned audio quality. Each ear bud now has dual drivers– a tweeter and a woofer, which gives a better listening experience. However, you may need to turn the volume up a bit higher to make them more audible.
The package comes with three sets of ear tips in different sizes so you can choose which one fits best. An ear hook is also provided for those who require additional security. This is a plus especially for those who are engaging in extremely active sports and those with high mobility.
In terms of design, the Samsung Galaxy Buds+ provides a cleaner look versus the Apple AirPods, as it comes without the "stalk". This makes the buds less obtrusive as they just fit right into the ears.
Samsung programmed a very straightforward process of setting up the buds, although it is not as seamless as how Apple has done it with the AirPods. Nonetheless, they came up with an iPhone app that makes the Buds+ compatible for iPhones and its users to easily enjoy. It is as simple as how Samsung mobile phone users are able to set up their Buds+.
The Samsung Galaxy Buds+ are touch-sensitive which makes navigating tracks and adjusting the volume easily manageable. They are fairly easy to get a hang of, making the user experience quite pleasant.
For Android users, an additional feature is that you can activate Spotify with a long press on the earbud. Additionally, for users of recent Galaxy phones, you can switch between the Galaxy phone and another Samsung gadget seamlessly. There's no need to re-activate the Bluetooth pairing to switch gadgets.
For those who use their ear buds for hands-free calls, the Galaxy Buds+ has a revamped external microphone. This makes phone conversations more audible.
Battery life of the Galaxy Buds+ lasts for 11 hours in between charges, for continuous usage. The case can also re-charge the buds for another 11 hours, making it a 22-hour wireless experience. Apart from this, Samsung developed a fast-charging technology which allows you to re-charge the buds for only 3 minutes to get an additional hour of listening.
The case is also capable of wireless charging using compatible wireless charging pads or the latest Samsung Galaxy S20 phone which offers a reverse charging feature. However, wireless charging takes much more time than cabled charging through a direct power outlet.
Apple AirPod Pro
Retail Price: Starts at $159.99
Battery Life of Earbuds: 4 Hours 30 Minutes
Battery Life of Case: 20 Hours
Wireless Chargeable Case: Yes
Colours: White
Earbud Weight: 5.4g each bud
Apple's AirPods have been a huge success since it was first launched. Albeit its brand reputation of continuously creating the sleekest gadgets at a higher price point, Apple also consistently delivers new technologies that improve the user experience of their wireless headphones.
The AirPod Pro's are incredibly simple to set-up for iPhone and iPad users. Once you open the case, the Apple gadget detects the AirPods, and then instantly connects, ready for use. Meanwhile, for Android users, it takes a few more steps but it's fairly manageable.
From what we've experienced, the Apple AirPod Pro fits much better than the previous version of the AirPods. The package comes with three silicone ear tips from which you can choose the size that is most fitting for you. The ear tips can be easily swapped and attached. The fit is a common concern among ear buds buyers and Apple was able to solve this.
Aesthetically, the AirPod Pro's ear buds have shorter stalks than the previous model of the AirPods. Controls to navigate tracks, adjust the volume, and turn on the noise cancellation can also be done by giving the ear AirPods a light squeeze.
Noise-cancellation is the most remarkable update on the AirPod Pro. It enables you to listen to your audibles without hearing any ambient sounds from the space you are in. Apple's noise-cancellation is powerful enough to pacify the sounds of an engine, but remains non-intrusive. This technological feature makes every penny worth the investment.
The AirPod Pro's noise-cancellation feature can be turned on and off. Even when it is off, the audio quality of the AirPod Pro is still top notch.
The AirPod Pro can also be seamlessly transitioned from one Apple gadget to another. Say, you are currently listening through your iPhone and you decide to switch to your MacBook, the technology is smart enough to do just that without glitches.
In terms of battery life, the AirPod Pro ear buds has around 4 and a half hours of power while the case can charge up to 20 hours. It is almost the same as Samsung Galaxy Buds+ as both also have wireless charging cases.
What's the next gadget you want to invest in? No idea yet? You may want to check this out, HERE!