Let's face it. Being on a diet can be frustrating, especially for beginners. Saying goodbye to the foods that everyone is used in eating makes things even harder because seeing those foods often gives us the craving and temptation to buy or cook our old favorite foods that are high in calories. But who says enjoying food has to be hard? It'll be a big adjustment at first, but the good news is this – we're going to share the top 5 favorite low carb comfort food recipes of KETO dieters!
Sounds music to your ears? Great! Then let's get started!
In this article, we're going to share the recipes of Cooker Brisket and Onions, Garlic Butter Steak Bites, Buffalo Chicken Dip, Roasted Chicken, and KETO Stuffing with Sausage and Herbs.
Slow Cooker Brisket and Onions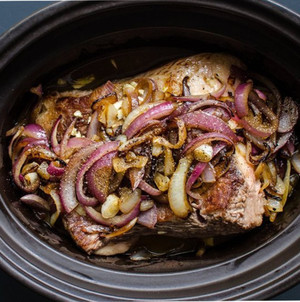 If you've heard of the dish called 'pot roast,' then you'll get an idea on what this dish is about. This dish is cooked quietly in the slow cooker all day with caramelized onions, rich broth, and meat that will surely suit your tastes.
Ingredients:
1 tablespoon olive oil
1 1/2 pounds yellow or red onions (about 2 large), sliced into half-moons
3 1/2 pounds beef brisket
Kosher salt
Freshly ground black pepper
6 cloves garlic, minced
2 cups low-sodium beef broth
2 tablespoons Worcestershire sauce
1 tablespoon soy sauce or tamari
Using a large, deep sauté pan, heat the oil or cast-iron skillet over medium heat until it shimmers.
Add the onions and cook on medium heat while stirring it frequently until the onions caramelize slightly (it'll take around 20 minutes).
On the other hand, sear the brisket. Dry the brisket with paper towels. Season generously all over with salt and pepper. Heat a large skillet or sauté pan over medium-high heat.
Add the brisket and sear, flip it once, until golden brown. Transfer it to a 6-quart slow cooker, showing the fat side up. Sprinkle the minced garlic over it.
When the onions are ready, put them together on top and around the meat. Mix the broth, Worcestershire sauce, and soy sauce/tamari together and pour it into the slow cooker.
Cover it until tender, up to 6-8 hours on the low setting. Switch to the WARM setting for 20 minutes.
Slice or shred the brisket immediately and serve it with onions and juices (Cutting the brisket will make the reheating faster). Let the meat cool then refrigerate overnight. Remove the fat before reheating.
Reheat it in the oven to 300°F (149°C). Transfer the brisket and its juices to a baking dish and cover with a lid or two layers of aluminum foil. Heat in the oven for around 1 hour or until it's warmed through.
Enjoy!
Garlic Butter Steak Bites
Fan of steakhouse steak? Then this is for you because garlic butter steak bites are what you need to satisfy that steak craving. Here's the recipe for the perfect steakhouse bites that can be prepared whenever you want.
Ingredients:
4 cloves garlic
1/2 teaspoon freshly ground black pepper
1/4 cup chopped fresh parsley leaves
2 pounds thick-cut New York strip steaks
1/2 teaspoon kosher salt
8 tablespoons (1 stick) unsalted butter
Mince 4 garlic cloves and transfer it to a bowl with ½ teaspoon for black pepper and chop.
Add ¼ cup of parsley leaves and transfer to a small bowl. Cut the 2-pound New York strip steak into 1-inch cubes. Season with ½ teaspoon of kosher salt.
Melt all the butter in a large skillet over medium-high heat.
Add the steak cubes, sear until browned (this may take around 6-8 minutes).
Add the garlic and pepper and cook for a minute. Remove from the heat and use parsley as garnish.
Enjoy!
Roasted chicken
Roasted chicken is probably not something new to us due to its popularity. But this recipe would make the familiar roasted chicken even better – savor the tender and juicy meat, seasoned with salt and scented herbs.
Ingredients:
1 (4- to 5-pound) whole chicken
Olive oil or softened butter
1 tablespoon kosher salt
Freshly ground black pepper
Optional flavorings: lemon wedges or slices, fresh herbs, garlic cloves
Equipment:
Paper towels
Roasting pan, 10- to 12-inch oven-proof frying pan, casserole dish, pie dish, or other ovenproof dishes that the chicken fits in
Cutting board
Knife
Kitchen twine
Arrange a rack in the lower third of the oven and remove the racks above it. Preheat the oven to 450°F/ 232°C.
Remove the giblets. This can be used to make gravy.
Using the paper towels, pat the chicken dry. Blot inside the cavity to make the chicken dry inside and out.
Rub a thin layer of oil or softened butter all over the chicken, especially the breast and drumsticks. The more oil/butter on the breast and drumsticks, the better! This will help the skin become crispier and golden.
Sprinkle the chicken generously with salt and pepper.
(optional) Stuff the cavity of the chicken with halved lemons herbs and whole cloves of garlic to add flavor to the chicken. Tie the legs together with kitchen twine.
Place the chicken in the pan with the breast side up. Cast the iron skillet, frying pan, baking dish, pie plate, or any other shallow oven-proof dish. Roast the chicken by itself in a pan, or lift it off the pan using a roasting rack or coarsely chopped vegetables.
Place the chicken in the oven and set it to 400°F/204°C. Set the timer for 60 minutes.
The chicken is ready when the temperature registers at 165°F/74°C. The wings and legs should wiggle loosely, and the juices run clear. If not, continue roasting and checking every 10 minutes until done.
Transfer the chicken to a clean cutting board and leave it for 15 minutes. As you wait, you can prepare a side dish or gravy.
Cut the chicken by part – breast, thighs, and drumsticks then serve.
Easy KETO Stuffing with Sausage and Herbs
Following diet plans mean rewiring the eating instincts. If you're following the KETO diet where carbs would be dropped and replaced by protein and fat, processed foods are one of those that belong to the forbidden foods list. However, in this recipe, we're going to make a KETO-friendly dish that includes sausage and herbs!
Ingredients:
6 ounces keto bread (about half a loaf), thawed if frozen
2 tablespoons of unsalted butter, divided
1/2 teaspoon kosher salt, divided
1/4 teaspoon freshly ground black pepper
3 stalks of celery
1 small yellow onion
2 cloves of garlic
8 ounces uncooked pork sausage, casings removed
2 tablespoons chopped fresh parsley leaves
2 teaspoons chopped fresh sage leaves
1/4 teaspoon dried thyme
1/2 cup low-sodium chicken broth
Thaw 6 ounces of KETO bread if frozen, then tear into bite-sized pieces.
Melt 1 tablespoon of unsalted butter in a large frying pan or cast-iron skillet over medium-high heat.
Add the bread and season it with ¼ teaspoon of kosher salt and ¼ teaspoon of ground black pepper and toss to coat. Stir occasionally until golden brown and crispy (10 minutes).
Dice 3 stalks of celery and 1 small onion and finely chop 2 cloves of garlic. Put them together in a bowl.
Transfer the croutons to a large plate. Return the skillet to medium-high heat, add the sausage and cook. Break the sausage into small pieces using the wooden spoon until cooked and browned. This will take around 5-7 minutes. Transfer it to the plate together with the croutons.
Add the remaining 1 tablespoon of unsalted butter, celery, garlic, onion and ¼ teaspoon of kosher salt to the skillet. Sauté until it begins to brown. This will take around6-8 minutes.
Chop the 2 tablespoons of fresh parsley leaves and 2 teaspoons of sage leaves.
Add the parsley, sage, croutons, ¼ teaspoon of dried thyme and sausage to the skillet. Stir to combine.
Pour ½ cup chicken broth and cook until the liquid gets absorbed. This will take around 5 minutes.
Buffalo Chicken Dip
Craving for some spicy, creamy yet packed with protein buffalo chicken dip? Then try this tasty, yet easy to prepare buffalo chicken dip. This is perfect for a quick dinner dip or just the right size to serve a small crowd.
Ingredients:
2 tablespoons unsalted butter
1 pound boneless, skinless chicken breast, cut into 1/4-inch pieces
1/2 teaspoon kosher salt
1/2 cup hot sauce, such as Frank's RedHot Sauce
8 ounces cream cheese, cut into 8 cubes and at room temperature
3 ounces Colby Jack cheese, shredded (about 1/2 cup) and divided
2 medium scallions (white and green parts only), thinly sliced
Serving options: Kettle potato chips, celery sticks, carrot sticks, or red pepper slices
Equipment:
8-inch ovenproof or cast-iron skillet
Measuring cup and measuring spoon
Cutting board and chef's knife
Head the broiler and melt the butter. Heat an 8-inch ovenproof or cast-iron skillet over medium-high heat. Add the butter and melt. Add the chicken and salt and stir occasionally until cooked. This will take around 8 minutes.
Finish cooking the chicken with the hot sauce. Add the hot sauce and cook. Stir to help evaporate the juices left in the pan. Using a spatula, break up any larger chunks of chicken. This may take 3-4 minutes or more. Remove the pan from the heat to cool.
Add the cream cheese and shredded cheese. Scatter the cream cheese cubes over the chicken. When the cream cheese softens, add 1/3 of the Colby Jack and stir until thoroughly combines. Spread into an even layer.
Top it with the remaining shredded cheese and scallions. Sprinkle with the remaining Colby Jack and scallions.
Broil to melt the cheese until it becomes golden brown and bubbly.
Serve the warm dip. This dip can be dipped directly from the pan with chips, celery or other chopped vegetables.
Okay, so that's done… what's for dessert? How about LOW CARB CHAFFLES (= Waffles)